Coastal Flood Risk Analytics, Maps and Tools

Sea level rise and coastal area flooding are growing threats worldwide. We can help you:
Assess: What is the threat to my existing portfolio, assets, or infrastructure?
Plan: Where should I buy, sell, build or move?
Protect: What do I need to protect, by how much, and when?
With U.S. and global coverage, we offer big data analytics, digital maps & tools, tailored services, and consulting for governments, NGOs, businesses, consultants and investors.
Meeting your specific needs
We work with you on selecting the right geographic area, time period, flood definition, and risk tolerance for your needs under different climate and sea level scenarios. We can handle multiple combinations for multiple needs, from tracking low-value sites that can accommodate regular flooding, to protecting critical facility types that can't afford a single event across 50 years.
Maps for planning and action
We can build maps showing coastal areas that fail standard flood risk tolerance criteria, or criteria you specify. We can build maps showing how high structures must be raised, or defenses built, to meet those criteria. We can deliver maps in almost any format you want, from standard file types to map services to customized interactive tools for exploring numerous options and scenarios.
Analysis for portfolio assessment
If you are a firm with any investments or assets in coastal areas, we can quantify vulnerability at each of your sites, and assess which ones meet or fail risk criteria. If you are a government agency at any level, we can help you assess your infrastructure or housing stock the same way. If you are a consultant, we will help you help your clients. We can also go beyond site-exclusive assessments to factor in neighborhood and community risk surrounding each site location.
To learn more, contact us: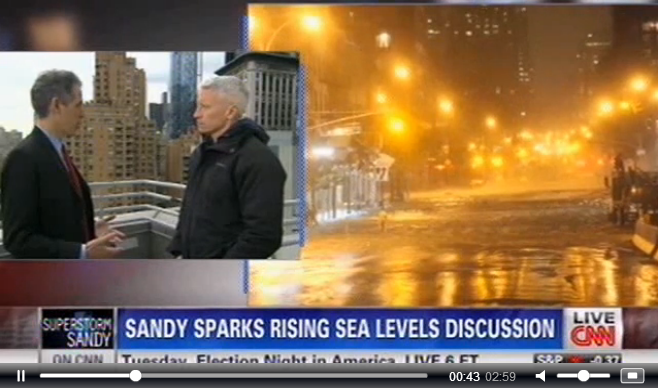 In the News
Our work has won coverage in over 7,500 stories, including in the New York Times, Washington Post, USA Today, AP, PBS, NPR, NBC, CBS, CNN, BBC, The Economist, and many other local through global media outlets.